까치 프로젝트(Magpie Project)는 킹스턴에 계신 한인 공동체와 개개인 분들께 정신건강과 관련된 정보, 자문, 상담, 지원 서비스를 제공합니다.  이 프로젝트는 한국어와 영어가 가능한 직원과 자원 봉사자분들에 의해서 운영되고 있습니다.  저희가 제공하는 서비스는 상담서비스, 열린카페, 웰빙을 위한 신체활동, 챔피언 트레이닝 프로그램, 원투원 사인포스트등이 운영될 예정입니다. 그리고 더 나아가서 킹스턴 마인드에서 제공하는 서비를 이용하시는 것도 가능합니다.  저희의 목표는 이 지역의 한국인 공동체가 정신과 관련된 부정적인 인식을 없애고 그것의 회복을 위하여 긍정적인 정신건강 복지 증진을 돕는데 있습니다.   
저희 킹스턴 마인드는 1972년에 설립된 이후로 킹스턴 지역주민의 정신건강과 관련된 서비스를 제공하는 자선 단체입니다. 네셔널 마인드와 제휴되어있고 전국 114개의 지역 마인드 협회중의 하나입니다. 이번년도는 킹스턴 마인드가 특별히 50주년을 맞이합니다.   
The Magpie Project provides mental health information, advice, support and counselling to local Korean individuals and communities in the Royal Borough of Kingston upon Thames. Our team has bilingual (Korean and English) staff and volunteers who support people to feel more confident to use local mental health services and supporting organisations. The Magpie Project includes services such as Counselling, Drop-in Café, 1:1 Signposting, Champions training and mental wellbeing activities. In addition to this, wider Mind in Kingston services are available to use, with support from our team.  Our aim is to help our local Korean community to challenge mental health stigma and promote positive wellbeing.
Since Mind in Kingston was founded in 1972, we have been supporting the mental health and wellbeing of people in the Royal Borough of Kington upon Thames.   We are an independent charity organisation and one of 114 local Mind Associations who are affiliated to the national Mind. Mind in Kingston celebrates our 50th birthday this year. 
Get in touch / 문의하기: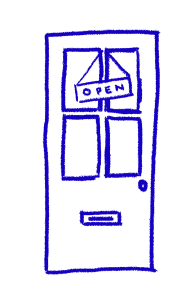 Soyeon Park 박소연
Magpie Project outreach coordinator / 까치프로젝트 코디네이터
T: 07501 766 276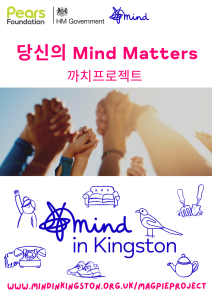 열린카페 / Drop-in Cafe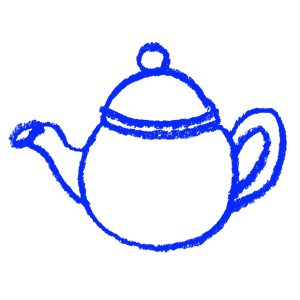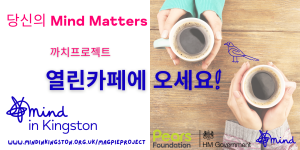 열린카페 at The Place
5월9일 월요일 부터
매주 6.30 pm – 8.30pm
# 7부터 8시 사이에 대화나눔의 시간이 열립니다.
# 예약없이 오셔도 되고 오시기 전에 연락처로 연락하셔도 좋습니다.
# 가능한 시간대에 오셔서 자유롭게 방문하셔서 차한잔 하시고 가세요.
# 프로젝트에 관해 더 알아보세요.
# 정신건강과 관련해서 킹스턴 한인사회를 지원합니다
# 정신건강과 관련된 정보와 어드바이스를 받으세요
Soyeon Park 박소연
Magpie Project outreach coordinator / 까치프로젝트 코디네이터