We believe that mental health issues shouldn't be a barrier to physical activity for anyone. Our physical activity programme supports people to get active to improve their mental health and overall wellbeing. Delivered in partnership with community partners, we offer a combination of taster sessions in different physical activities and weekly structured groups.
Being active has a whole range of benefits when it comes to mental and emotional wellbeing. It improves self-perception and self-esteem, mood and sleep quality, and it reduces stress, anxiety and fatigue. Physically active people have up to a 30% reduced risk of becoming depressed, and staying active helps those who are depressed recover. In older people, staying active can improve cognitive function, memory, attention and processing speed, and reduce the risk of cognitive decline and dementia.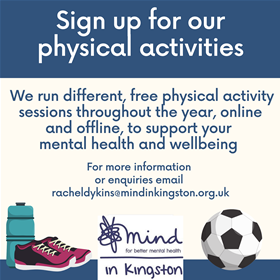 How to join
Most of our physical activities are open to anyone who feels that physical activity could benefit their mental health. Individuals can self-refer or be referred by a health professional, support worker or another charitable organisation.
Contact [email protected] for further information on how to join.
Happy Feet Walking Group – July 2021
Join our friendly group every Monday at 11:30am to get some fresh air and explore Kingston's green parks and riverside. Led by our volunteer Barbara Crow, who is a member of Kingston Ramblers, the walks are easy to moderate and incorporate a break so people can leave at that point or continue on.
Our mantra is "Come as your, however you're feeling. You don't have to be 'at your best'. " Our aim is to support people to feel more confident about walking in the local area.  
Previous walks have included the Woodland Walk in Bushy Park, the riverside through Canbury Park Gardens and through Home Park towards Hampton Court. We are inclusive and always welcoming to new participants. 
Walking has always been there for me, my confidence has grown immensely. I'm a totally different person now than I was ten years ago and I owe so much of that to walking.
Kath, walker with bipolar disorder
Football for Mental Health – ongoing
We are home to 
Kingstonian Mind United FC; a football club made up of individuals (18 years and over) who have lived experiences of mental health issues and who share a passion for the beautiful game of football!   We are open to beginners and players of any level, as our main focus is creating a safe and welcoming environment to get active by playing football. 
As part of our Physical Activity programme, we welcome you to come along to meet the team and experience one of our weekly, free training sessions. This opportunity has enabled many new members to decide to get involved with our inclusive mental health football team, Kingstonian Mind United FC. The team is supported and trained weekly by a Coach from AFC Wimbledon and supported by our Physical Activity Coordinator from Mind in Kingston.
MiK Jog Together 
Join our beginners running group, "Jog Together" and win a brand new pair of ASICS trainers! 
From Tuesday 28th September 2021, leading up to Christmas, we're running 12 free sessions every Tuesday 13:30 – 14:30 at Kingsmeadow Athletics Centre. 
If you want to get more active through running but don't know where to start, feel anxious or find it very hard to get going on your own – then look no further! This is the group for your. Our wonderful run leaders Victoria and Coach Saima will help you each step of the way with a focus on mental health and with lots of encouragement and group support. 
Thanks to Asics UK, the sponsors of this group, we are able to gift all members of Jog Together with a free pair of brand-new trains on Week 6. Sign up today!
To support our Physical Activity Programme:
If you are interested in sponsoring our physical activity for mental health programme or volunteering your time and expertise to expand our programme, please get in touch with Rachel on [email protected].